Discover more from Scatter Brain
From my scatterbrain to yours
Over 4,000 subscribers
A chat with Mary Ann Azevedo, Managing Editor of FinLedger
Building a newsroom, covering b2b fintech, Austin tech & more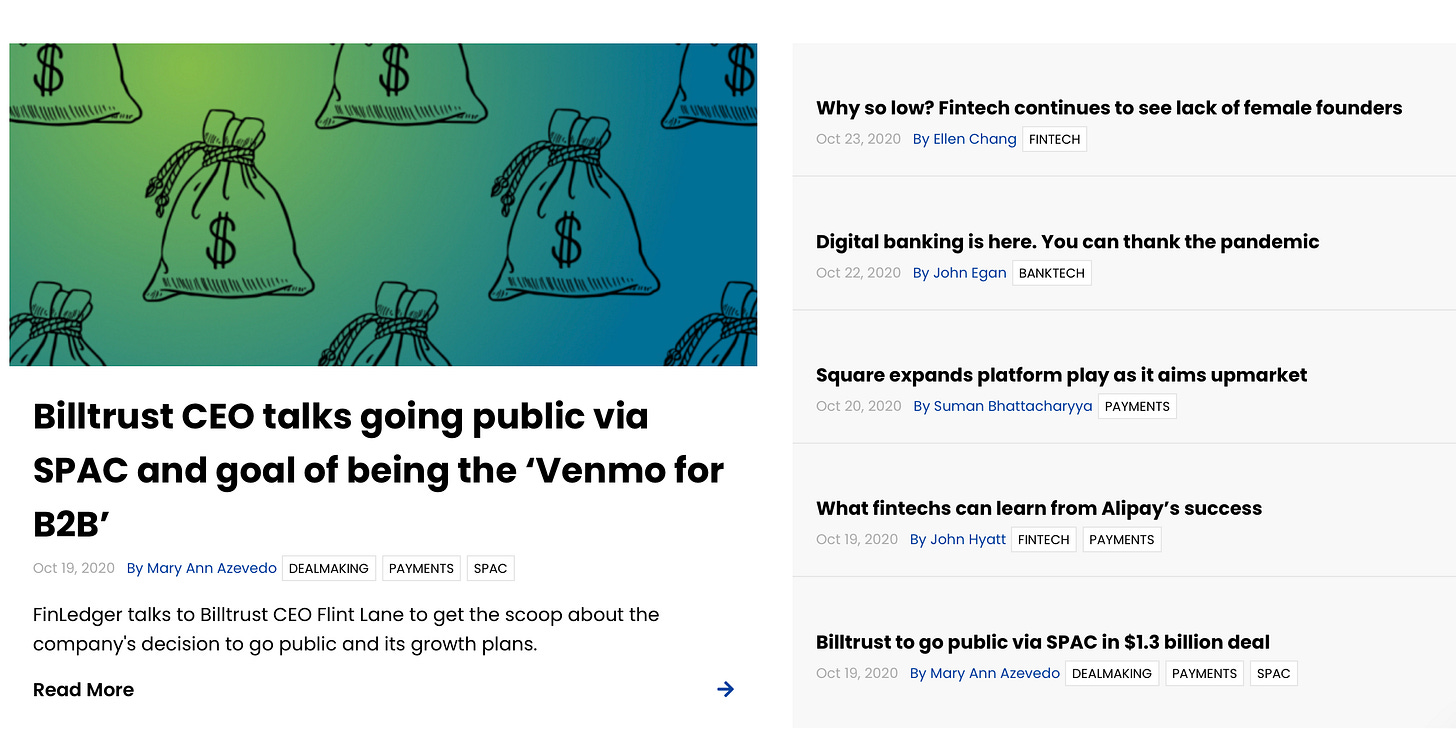 Sar : You have been a longtime business journalist. You have reported for Forbes and Crunchbase News. I discovered you and your news outlet FinLedger on Twitter. What was the motivation behind wanting to build a new fintech-focused outlet? Fintech coverage has been beefing up at multiple tech-focused and general news outlets over the past few years. As a managing editor, what is your vision for this outlet? What sort of audience are you hoping to build?
Mary : Someone I interviewed recently said to me: "Today, fintech is all the rage." And while I agree with that sentiment, I would argue that what's happening in fintech today goes way beyond any fleeting trend. Fintech's momentum has been gradually building in recent years and was accelerated (in a big way) by the COVID-19 pandemic. HW Media CEO and FinLedger founder Clayton Collins is a former banker who had a vision for a B2B-focused fintech publication for about a year before making it a reality this past August. As managing editor, my vision is to build a publication that is covering all the big news in B2B fintech while uncovering the less obvious happenings in the space that are also super important. We are interested in covering what the incumbents are doing and how they are partnering with, competing with, investing in, and acquiring startups as well as how those startups are raising money and working to partner with, compete and in some cases, get acquired by the incumbents. 
I have been a business journalist for most of my 26-year career, and what I find most interesting about companies and technologies they develop is the people behind them. That's why I guess it should be no surprise that our stories that are very people-centric tend to perform especially well. Cool companies and technologies are fun to read about but sometimes what's even more interesting is hearing the stories of the people who created them. What led to them doing so. What problem(s) they were trying to solve. How they grew their company. 
As for the audience, we want to reach the financial services and fintech professional – serving and engaging with readers at big banks, insurance companies and challengers and startups trying to change the game. We believe all will have an interest in the content we create (and aggregate in our daily newsletter). Our main focus is on the banking, payments, proptech and insurtech spaces. But we're also looking at tangential sectors such as cybersecurity, big data and regtech so we're spanning a broad range of industries in our coverage.
Sar :What do you believe are less obvious stories in B2B fintech? 
Mary : I think cross-border payments is a very important and growing segment within B2B fintech. I recently covered the $31 million funding round of a startup called Veem, which is building what it describes as a global payments network for businesses. Interestingly, Truist Ventures (the corporate venture arm of Truist Financial) led the round as its first ever investment. The company's goal is to solve a pain point for businesses by making it much simpler to send money to companies (such as suppliers) or pay employees in other countries.
Along those same lines, FinLedger is interested in some of the less obvious sectors within fintech such as proptech, construction tech (which I personally think has massive opportunity) and insurtech. Insurance in particular is being disrupted by a number of startups from the more well-known companies such as Lemonade and Root to the lesser known players such as The Zebra and Branch. During the pandemic, things have intensified as more people have to file and process claims remotely so the incumbents are having to adapt.
As a former real estate reporter, I understand the complexities of the construction industry in a way that others may not. It's a massive industry that has historically been very slow to adopt technology and is not necessarily viewed as 'sexy' or easy to understand by a lot of investors. It's known for inefficiency, which leads to both (major) time and money lost. I think as the people leading construction companies are increasingly from newer generations, they are more open to adopting technology. As such, startups targeted at helping companies in this industry, such as a fintech called Briq for example, have a ton of opportunity.
Sar. : It is easy to lose sight of the fact that news outlets are organizations just like companies they cover and they face a similar set of challenges that come from a group of people working together. Since FinLedger is so young and new, it is basically like a seed-stage startup. What can you tell us about how you are thinking about building the newsroom?
Mary : It's funny you say that since I've been thinking the exact same thing. I've been covering startups for years, but now I am in the position of building one. From the beginning, I believed our strategy should be to come out the gate by contracting with experienced, seasoned journalists who could cover the space knowledgeably and without much direction. Along those lines, we have contracted with four stellar writers (Suman Bhattacharyya, Ellen Chang, John Egan and John Hyatt) who cover a combination of breaking news and features. With this strategy, we've been able to produce some great content in our first two months of publishing and build early credibility. I am also continuing to write some – focusing mostly on breaking news, some funding coverage and in-depth Q&As with industry leaders such as this interview I did with Amit Jhawar, ex-Venmo GM and current Accel investor. 
We are in the process of hiring for a more junior, assignment reporter role. Ideally, this person will come in with a hunger to learn and report on the fintech industry. This is just the beginning as we continue to grow.
Sar : How do the contracting relationships work? 
Mary : I essentially identified three writers who I've known over the years and had experience covering finance. They are all top notch journalists who don't need much direction. Our fourth writer I actually discovered on Twitter. He's working on his Master's but I was really impressed by a newsletter that he writes so initiated a conversation with him, and he's written some awesome articles so far.
I'm at the point now, though, that I need help on a daily basis – for example with writing and producing our daily newsletter. It takes up most of my mornings, which keeps me from doing other things like writing more stories, editing or building relationships :) I also would love to have someone on staff I could assign more breaking news to, who at the same time will work on weekly features. As we grow, we'll continue to hire more staff writers and editors.
Sar :As someone who has been a freelance journalist for a considerable portion of your career, how do you feel about the idea of high profile journalists going independent and the chatter around creator or passion economy in journalism? 
Mary : I mean, all the power to them! I think that any journalist (like Casey Newton) who has built their brand to a point they feel comfortable and confident in going that route should absolutely go for it. It's not for everyone though.
Sar : You wrote on a wide range of topics when you were at Crunchbase News. What can you tell us about if and how collecting information, finding sources and picking stories has changed your vertical focus on fintech? 
Mary : Yes, I covered every industry in the sun during my time at Crunchbase News and that was fun and a learning experience. But it's really nice to be able to narrow my focus on a specific industry. While fintech is still broad, I'm at least able to hone in on the space and not be spread as thin from a coverage perspective. The good news is that my three years at Crunchbase News was extremely valuable in terms of building a network. That has served me very well in my current role. People I previously worked with have kept up with my move and so I have been able to actually ease into this role more smoothly than even I expected! Having said that, there's still a ton of work that needs to be done around awareness. SO many people don't yet know that FinLedger exists. I do spend a good amount of time on Twitter, which is valuable not only in increasing exposure to our work but also in collecting information, finding sources and picking stories. I have made an effort to seek out "experts" in the space or at least people who are doing cool and innovative work in fintech. I like talking to a wide range of people, from investors to founders to analysts to big company executives. I believe it's important to get a broad perspective.
Sar : Fintech has been on a tear this year. Before the pandemic kicked in for most of us, in January and February, fintech was on fire with blockbuster M&A news of Plaid, CreditKarma and Galileo. Later, over the next couple months, late-stage fintech funding rounds of Stripe, Robinhood, Chime, IPOs of Bill.com and nCino, layoffs at the likes of Brex, Acorns et al and acquisitions of Kabbage & OnDeck were dominating the conversation. And, now, the chatter is dominated by how hot early-stage fintech deals are and the idea of embedded fintech is getting a lot more oxygen. What's most interesting to you as an editor about all of this? What are we not talking about enough? What's underreported?
Mary : I'm intrigued by the uptick in IPOs and SPACs in space. We've seen a number in recent weeks alone (Billtrust, Affirm, and Root are just a few examples). I'm also impressed by some of the large funding rounds and acquisitions that have taken place – all of which in some ways validate the "hotness" of the space. No doubt embedded fintech and the 'Buy Now Pay Later' movements are growing. Early-stage startups are raising money too. For example, I recently covered the $20 million Series A raise of Argyle, which aims to be the "Plaid for employment records." Bain Capital Ventures led that round.
I remain skeptical, though, because as we've seen in a number of situations lately – raising gobs of money doesn't always equal success and lots of companies going public are nowhere near being profitable.
I think we're not talking enough about how fintech can really help make the world more inclusive. And disappointingly, articles we've published on the topic haven't performed as well as I would have liked. At the end of the day, all this technology is great but if it's not helping people everywhere of all demographics lead better lives, then just how important or good is it? That might sound idealistic but I think it's crucial to consider how everyone is impacted by advances in financial technology. 
I wrote an article recently (more of an opinion piece) about how we are seeing more online banks being founded by the Black and Latinx community to serve their communities. This says to me these communities don't feel their needs are being met by existing institutions.
Also, I find companies that are working to help the underbanked and unbanked become banked pretty interesting too. Galileo, for example, is doing a lot of work in Latin America to help fintechs more easily serve people in the region. Case in point lies in one of its clients, Klar, which at one point described itself as the "Chime of Mexico" and just raised $15 million.
I feel like we in the industry have become desensitized when talking about millions of dollars being raised at billion dollar valuations. The majority of the world can't begin to fathom such insane dollar amounts. So when companies are doing things to really help even out the playing field and not just help the rich get richer, my ears perk up.
Sar : You are based in Austin. What can you tell us about the Austin tech scene? The Information did an interesting trend piece on Austin recently. What should we be reading to keep up with the developments there? 
Mary : Austin has been an emerging tech hub for years now and that has really picked up in the past few years. I've previously written a number of articles (for Crunchbase News and Forbes) about how and why Austin's tech scene is growing so much. Companies are drawn to the laid-back lifestyle, lack of state income tax, a more business-friendly environment and a generally lower cost of living as compared to the Bay Area and New York.
There's a ton of startups here, no doubt. And in particular, Austin is big in CPG, enterprise software and is increasingly home to a number of real estate/proptech-related startups. The city is culturally very similar to the Bay Area, very pretty and 'hip' and has a booming economy. More and more companies (big and small) are drawn to either relocating here, opening secondary offices here, or building large campuses here (Apple, Google, Oracle, Tesla). My friend, Brent Winstrom, a senior editor at AustinInno has done a great job of examining the trend from the startup perspective at least.
Sar : Who are some people you learn the most from about the fintech landscape? What are some of your favorite sources of information?
Mary : Twitter is a great source of information and so is LinkedIn. Every day, FinLedger sends out a newsletter in which we share not only our own content but links to other outlets publishing articles that are relevant to the industry. In choosing this content, I read a wide range of publications from the more mainstream Wall Street Journal to Bloomberg to the more niche Pymnts.com and Banking Dive.
I learn a lot from every single person I interview, to be honest. That's one of the most fun things about my job. It's a constant education. 
But in terms of people who just generally know a lot about the industry whose musings I like to keep up with? They include Fintech Today's Ian Kar, Nik Milanovic, and Spiros Margaris. And of course journalists such as my former colleagues Alex Wilhelm, Christine Hall and Natasha Mascarenhas.
---
Previous interviews : 
Katie Perry, VP of Marketing at Public
Julia DeWahl, ex Chief of Staff at Opendoor
Jill Carlson, Principal at Slow Ventures
Biz Carson, Reporter at Protocol
Jack Altman, Cofounder & CEO of Lattice